Hi
Long time no see
Kita-Ku in Kobe has been down to almost -2 degrees celcius
It's so cold
!!!!
Just the other day I participated in the 20th anniversary competition of Pearly Gates, who always support me, in Chiba
I waited to take everyone on at the hole number 5
but I have to say, everyone's swings were beautiful, and they were all such lovely, and fashionable people
As an added bonus, I was able to have everyone participate in the guide dog charity I run
!!
I would like to use this space to thank everyone once again
In future, I want to make a greater contribution to guide dog promotion, and in order to have more people take an interest and support them, I will be doing my best to get every birdie I can
There's less than a month to go until the new season begins!! !!
Nori-san will be my caddy
I really need to get even after some disappointment last year…
I have all my golf-wear on standby ready to hit the greens
All that needs work now is my golf itself
I will be working hard at the Academy again today
The cold, cold weather is continuing here,
so everybody please take care of your health
From the website management.
Thank you for your ongoing support of Momoko Ueda.
Momoko arrived home safely from Hawaii yesterday.
She seems to have managed to learn lots from rubbing shoulders with the world's top pro-golfers at the SONY OPEN In Hawaii, and is straight back into training today!
We have received some photos with comments, recording her time in Hawaii, so here they are:
The condominium I used as my training base throughout the competition
Kalani Ocean
http://www.eaglehawaii.com/v_rent_kalani.html
At a party.
From The Kahala, where I'm staying, around sunrise.
I was lucky enough to play a round with my idol Adam Scott!
The day prior, I went and had my nails done!
Complete with "Hawaiian jewelry"!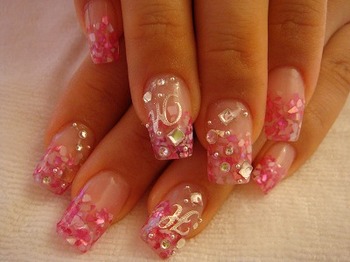 Thank you Nadine-san!
There are things I need to work hard on, in my own way, this year.
In fact there are countless such things
But if I improve each area, one at a time, I believe it will all come together to be fruitful
That's why, in terms of my golf, my private life, and my English, this year needs to be a year of hard work.
If I think of what's important to me now, first is hard work.
There's nothing that people can't achieve if they try.
I want to show that to those who don't believe it.
That you wish, take action, and work hard continuously, it will come true…
So everyone please be watching
I'm seriously gonna to do it this year
Yesterday I spent a long time by myself on the beach here in Hawaii, thinking.
So many things filled my head, my chest felt all tight.
And the last thought that remained with me was…
That I must be grateful…
To my parents, who gave birth to me. To my parents, who encouraged me to play golf.
To my family, for their emotional support.
To my friends.
And to my fans and sponsors and all those who support me.
I want to keep this feeling of gratitude strong this year.
I am just about to depart Narita
When I arrive in Hawaii, I'll update my blog to let you know news I want to share with you this year
Please look out for it
From the website management.
Thank you for your ongoing support of Momoko Ueda.
At this "Sony Talk" link you can enjoy scenes from the recent "Ai no izumi" event, as well as video images on Momoko Ueda acting as Sony Brand Ambassador.
「
Sony Talk
」
She also talks about her goals for 2009.
Please take a look!
As of today, I can update my blog remotely, on my mobile phone, so I'll be keeping you regularly updated
I spent yesterday with good friends in my home town
My home town is the best
Kumamoto's the best
I need to train hard at Academy from today, so I think refreshing like this has been great
Well, I'm off
to Academy
The New Year is here everybody!
Happy New Year!
For me, 2008 was a good year, a year when I could learn a lot.
To sum it up, last year was a year of learning.
America turned out to be bigger than I imagined, and a place with people from all over the world…!!
I feel strongly that I want to have a big win
in this big country
And that I want to try lots of new things, not just within golf – I want this to be a year of taking challenges…
And, I will, definitely win!!!!!!
To do that, hard work is needed, but I will be getting serious this year…
Please watch over me warmly
I spent my time off traveling with family and friends, eating delicious Chinese food and more
It was a really happy time
Let's hope 2009 is a happy year for both you and me
に
事前の許可なく本サイトの掲載記事
および掲載写真の複製、転載、放送等の二次利用することを禁じます。
Copyright(c)2008 Momoko Ueda. All Rights Reserved.
Copyright(c)2008 SUNNY SIDE UP INC. All Rights Reserved.
Copyright(c)2008 So-net Entertainment Corporation. All Rights Reserved.