Here are some photos from the USA vs Japan game I wrote about recently
The lady and man who were next to me
They were so adorable the captured my heart
!!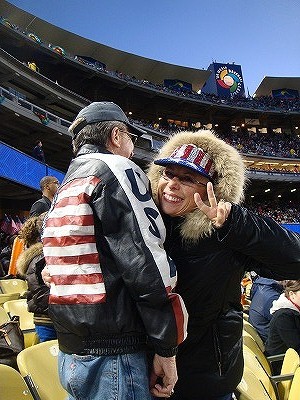 Me at the game
My heart
racing non stop
Oh, and then there's me…again
And here are my little nails
I got them done at tout Soleil in Daikanyama, Tokyo, by Michiko Matsushita herself
Matsushita-san is so talented, and was looking beautiful as always
Let's have dinner together soon
Matsushita-san also included me in her blog☆
Thanks so much♪
http://ameblo.jp/matsushita-michiko/day-20090322.html
Well, that's about it from me. Thanks for looking at my pics
!!
From the website management.
Thank you for your ongoing support of Momoko Ueda.
In response to requests from fans, we are pleased to announce the sale of a Momoko Ueda calendar!
With production overseen by Momoko herself, the calendar features her design choices down to the finest detail. The USA golf tournament schedule is included – a must for golf fans.
The calendar runs from April 2009 to March 2010, and is a limited edition, so please purchase early to avoid disappointment!
Please see the link below for details (Japanese language):
http://www.eggstore.jp/html/newpage.html?code=30
Japan won
Many congratulations from the bottom of my heart I can't tell you how much I mean it
の気持ちでいっぱいです
!!!!!!
The Japanese team gave me so much excitement – more than I ever thought I could feel about something not directly related to me
Once again, congratulations, TEAM JAPAN!!TEAM 日本
〃
The inspiring battle, that actually went up to 10 battles, really grabbed my heart
It was a wonderful match where that really could have gone either way, I thought
!!
Ichiro-san's big hit in a situation like that…
I think it's only because it was Ichiro that it was such a big hit
He really is great. In fact the word great doesn't really capture it, he is such a great, strong leader for Japan.
I also think that this win was achieved through team work – the strength of the team as a whole
It really was awesome team work
Oh no…I can't believe this, I have to get up at 5.30 tomorrow…
I'll write part two tomorrow so wait for it ok?
I was going to upload some photos, but all I have is photos of the Japan vs USA match, and it's kinda bad timing so next time…
You'll have to make do with just Momo for now! Forgive me
!!
Good stuff
Japan
〃
I'll be following your example and playing hard too
!!!!!!!!
It's Momoko here from LA
I'm here to see Japan play in the WBC
It was non-stop excitement
!!
It started with Matsuzaka-san, who I love, then there was Sugiuchi-san's nice pitching, Ma-kun, Umahara-san, Darvish-san…
!!
You're lookin' good
That's my Japan
With one more win, we will have achieved two World Baseball Championships in a row, but more than that, more than anything, I want to see Japan's determination and spirit
!!
Of course★I do want Japan to win, but that's not all there is to it if you know what I mean...
I would love to stay another day, but I have my own job to do
I will be working hard, with Japan's good performance yesterday in mind to spur me on
I will post some photos of this visit tomorrow
so look out for them
That's all from me for today….
Bye-bye
2009-03-24 00:11:21
Yaaaaay!!!!!!
Japan won
All of us at the academy were cheering for Japan each day, so I was so happy they were able to win
!!
Yesterday was disappointing, but all's well that ends well
I really hope they get their revenge today
And at the same time I could almost feel the weight of the Japanese flag, the hinomaru
Times like this make me feel proud to be Japanese
There's something cool about the hinomaru
It reminds that I have to take on the US tour with pride as a Japanese person
I'll be cheering from 10 today again
I am doing my training too, in case anyone was worried……
This is a message from website management.
We always appreciate your support of Momoko Ueda.
The official website of the Momoken Project, the initiative where money is donated to support guide dogs for every birdie scored by Momoko Ueda, has been renewed!
Please take a look at the new site.
Momoken Project official website: (Japanese)
http://www.momoken.net/
Phew…, HSBC,
It's a tough one!
There are areas where I really feel how far I have come since last year, and others where I feel I really have a long way to go…
It's really my short game skills that need fine-tuning.
Over this week I have thought about so many things, and learnt so much
The HSBC course is one that teaches me a lot – it is a wonderful tournament
I will fill you in on the details when I get back to Japan☆
One more thing.
I had another read of Kiyohara-san's book
It really is a good book!!
He is a person I definitely hope to meet one day!
When I have grown so much that I am not embarrassed to meet him, then I would like to go and see him!!
Until that day I have lots of work to do
I am starting to feel motivated
I will definitely win in America
!!
Hi☆
The statues of doormen were just too much to resist – had to get a picture
Can you see the resemblance?
The Singapore course is quite tough, as expected!!
There are all different types of difficulties in golf, but this course is difficult overall, which means it's important for me to practice in a well-balanced way
There's one thing I am really not liking since arriving here.
Outside it is 30 degrees C with 80% humidity, while inside transport and buildings it is freezing because the air conditioning is on like you wouldn't believe, which means my body gets a big shock every time I move between the two
It's cold and it's hot… I'll do my best not to catch a cold
I'm sorry! It has been almost half a month between blogs…
I really was as blue as can be.
I think it was an important time for me to go through!!
The Okinawa training camp made me change my way of thinking 180 degrees.
Of course it was not Ezure-san, but the camp itself that made me change, I think.
Now I can see what is important.
I feel like I have taken the first step on a new path
It's hard to put into words, but I realized again what a wonderful sport golf is, and felt from my heart that I'm glad I play golf.
Meeting lots of people…
Making lots of mistakes…
Lots of joy…
And lots of things that are going to happen in future…
I plan to grow each day, so that none of these things are put to waste
Singapore is so, so hot – 80% humidity apparently…
Somebody help
事前の許可なく本サイトの掲載記事
および掲載写真の複製、転載、放送等の二次利用することを禁じます。
Copyright(c)2008 Momoko Ueda. All Rights Reserved.
Copyright(c)2008 SUNNY SIDE UP INC. All Rights Reserved.
Copyright(c)2008 So-net Entertainment Corporation. All Rights Reserved.