From website management
Thank you for always supporting Momoko Ueda.
A collaboration between the Momoken Project, which provides financial support to guide dogs for every birdie that Momoko Ueda makes, and golf wear brand PEARLY GATES, brings you Momoken T-shirts! Part of the sales will be donated to assist in the raising and training of guide dogs.
The t-shirts were made available yesterday, 29th April, on International Guide Dog Day.
The t-shirts were produced after Momoko Ueda announced "I want to make a way for more people to take part in the Momoken Project", and feature "349", the number of birdies (or better such as Eagles) Momoko achieved last year. Momoko explains "I want to have a simple design so that the t-shirt is suitable for young and old – for all types to wear!" "My initial and the crown on the back signify the feeling of striving for the top together with Momoken", showing how her individual selections have been incorporated into the t-shirts.
We have received a comment from Momoko, who is in Chiba in preparation for the Crystal Geyser Ladies'!
"I put a lot of thought into the t-shirts, including the design, so I'm excited that they are ready to be sold, and really grateful to Pearly Gates and all those who helped make this possible, as well of course as everyone who is going to buy a t-shirt!
I hope to see lots of people wearing the Momoken t-shirts, and hope that this inspires lots of people to contribute more to charities in general.
I think that just seeing a fan at a golf course wearing one of these t-shirts will give me a great motivation boost!
I really hope you can all see me win in one of the t-shirts! This week I want to focus on winning, and enjoy myself while staying in the fight to the end!"
In preparation for that win, I spent last week resting thoroughly, and practicing my approach again and again to polish up my sense of distance.
So everybody please show up at the course wearing your Momoken t-shirts!!
They're a limited edition so please get in early to avoid disappointment! Pop in to your nearest Pearly Gates store for a look!
You can also purchase online:
http://www.eggstore.jp/html/newpage.html?code=30
Momoken official website:
http://momoken.net/
I'm on the bullet train as I write this.
Given the lack of make-up, I tried taking a photo with my phone without too much of my face in it
To think that this week is my last chance for a while to eat truly typical Japanese food……
Although I'm not generally one to buy obento lunch boxes on the train (they're called eki-ben), I thought I'd better try one today
I thought I'd snap a pic with my phone and put it on
and as sometimes happens when you try something out of the ordinary……
I dropped my chopsticks in the process and can't even eat it
I asked the girl who came around selling snacks and everything, only to be half laughingly told "I have almost everything except chopsticks……! end of story.
I thought about it, but it's not really the sort of thing you can eat with your fingers…so I have to wait until I arrive
I hadn't even gotten half way through it……
P.S.
My wisdom teeth are still hurting
they're going to get any better……
But they aren't swollen at least…
Hey
I have somehow managed to get my feelings in order again.
It may not have been obvious, but I was actually suffering a fair bit out there.
But I have now had my wisdom teeth extracted, so I'm fine
It absolutely killed. All I could taste was blood, which was pretty disgusting too, and it's not much fun not being able to eat. In Japanese, wisdom teeth are called "oya shirazu" which literally means "not knowing one's parents", and I wasn't really into that, so I got rid of them! Haha! My molars, that is!
I love my parents! Momo is definitely and Mommy's-and-Daddy's girl!
For now, it's a battle between me and this pain
!!
In a way it has been a long week, but then again it felt like it was over in a flash.
With the weak results I came out with, all I can say to those who have been cheering me on is that I'm sorry.
And please know that throughout the week I was filled with gratitude for the warmth of all those around me in here in Japan.
That includes children and those who came from other regions to watch; locals who have supported me in various ways; my relatives; people who just love golf; so many athletes; those who cheered for me from the other side of the TV set or computer over the internet; so many other people I can't even list up, and my sister.
Thank you from the bottom of my heart
There is a reason why I couldn't win.
I know it…
I just have to take action.
So while I learn and apply myself, and learn again to finally bring myself to winning level, please do keep cheering for me
I didn't win, but with all the warmth of everyone's support, I truly was filled with happiness.
I'll be competing in the Japan Tour the week after next
I want to do my best!!
You're only a top athlete when you can meet people's expectations, I think.
So I will keep training every day, striving for the top
!!
I'm at home, just back after a practice round
That was my first time around the Kumamoto airport course in quite a while…
It really is a good course
I'm going to be doing my best this week
Anyway, about the Softbank vs Seibu baseball match I went to watch yesterday, I can hardly believe this but…
I received a bat and gloves from THE "Mune-rin", otherwise known as Kawasaki-san
I was so over the moon
The Ezure family actually use baseball bats quite regularly for training
So I will be sure to put mine to good use
So I will be sure to put mine to good use
Hehe
How cool is this
Hey
This week I am participating in my first tour in Japan for this year
Kumamoto is my home turf, and I thought it would be really nice if I could come and play on my home course, and hopefully be able to show some of my better play to the local people who have been supporting me, as well as the local junior golfers…
And as fate would have it, my schedule worked out so that I could be here
!!
It's the Kumamoto Country Club, and as the name implies, it is really right next to the airport.
So I hope you'll come and watch – not just those who live in Kumamoto
It's a special competition for me; the place where I had my first win……
I'm looking forward to it
Well, I guess I'll be seeing you all at the green then
Ciao
Masters…
I was up early every morning to watch i
Because in golf, you never know what will happen – it's not over until it's over
But particularly the Masters is a fantastic event isn't i
I would say there mustn't be a guy out there who doesn't find something about that field!!In amidst the broadcast, I did appear on the television, but did any one notice me I wonder
!?!?!?
I am embarrassed I must admit……
I will be out there in my cute Pearly golf wear doing my best this year too
Oh
and by the way this marker…
Cute isn't it?
A girl I know made it for me
Thank you
!!!!!!
I was going to update my blog yesterday actually……
Today I'm off to give the Softbank team manager Akiyama-Kantoku a bunch of flowers
!!
All my local Kumamoto buddies,
I'll be waiting at Fujisakidai
I pitched!!
It was awesome
I'll update again soon
Hi there☆
I'm in the car, on the road at the moment
I'm on my way to Petco Park, where that WBC game was held, to pitch the first ball at Opening Day – the Dodgers vs Padres game
This is a wonderful plan that my sponsor SONY has come up with. Who would have thought I could stand on the Major League Baseball pitch, and actually pitch the ball……
Thank you so much
After I pitch, I get to go "back stage" to watch the game too
If any of you are reading this from America, you will have to watch out for me on TV
I'm told that I will be popping in and out of the picture
I've been watching a lot of baseball lately
Baseball is so fun to watch!!!!!!
Well, I'm off now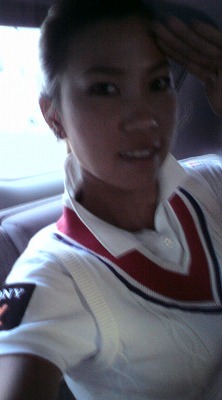 事前の許可なく本サイトの掲載記事
および掲載写真の複製、転載、放送等の二次利用することを禁じます。
Copyright(c)2008 Momoko Ueda. All Rights Reserved.
Copyright(c)2008 SUNNY SIDE UP INC. All Rights Reserved.
Copyright(c)2008 So-net Entertainment Corporation. All Rights Reserved.